Underwater Photography Magazine
Every issue of Underwater Photography Magazine (UwP) is packed with all the latest underwater photo equipment news, reviews, dive site reports, personality profiles, photo portfolios, top tips for better pictures, making it the essential read for all active underwater photographers, everywhere.
Uwp is published every two months by PR Productions and the great thing is that it's free for you to download, save, and enjoy whenever you want!
What's in our latest issue, UwP105?
You're not logged in! Just click the link below to login or to sign up for your free UwP magazine.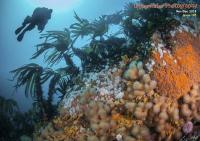 UwP105 Nov/Dec 2018
75 pages.
Editorial
Teamwork in competitions
Teamwork responses
News, Travel & Events
Underwater Photographer of the Year Competition 2019
7th annual Ocean Art Underwater Photo Competition
2018 International Coastal Clean-up (ICC) in Malaysia
Michael Patrick O'Neill school assemblies
Tulamben, Bali, Alam Batu
New Products
Nauticam MWL-1 conversion lens
Ikelite housing for Panasonic DC-LX100 II
Nikon KeyMission 170 and WP-AA1 40m housing
Ikelite DLM 8 inch Dome Port
GoPro Hero 7 Black
Fisheye Fix Neo Premium 4030 DX II
Ikelite 200DL Nikon Z7 housing
Nauticam NA-Z7 for Nikon Z7/Z6 Cameras
INON D-200 Strobe
Gladius MINI underwater drone with 100m cable
Scubalamp MS20
Scuba Diver with Camera Scrap Metal Sculptures
SOLA Video PRO LE
Competitions
Wildlife Photographer of the Year 2018
2018 SoCal Shootout
BIUPC 2018
Product reviews
Sony's FE 12-24mm F/4 G lens by Phil Rudin
Sony RX100 VI by Robin Dodd & Backscatter
Gopro Hero7 review by Robin Dodd & Backscatter
Nikon Z7 & Nauticam NA-Z7 sneek preview by Phil Rudin
RGBlue LM5K Twin Light by Phil Rudin
Marine Life
Shark Research by Chris Schenker
Chinchorro Crocodiles by Steve Taylor
Locations
Cape Town with Kate Jonker
iBook Review
SS Thistlegorm by Peter Rowlands
Parting Shot
You're not logged in! Just click the link below to login or to sign up for your free UwP magazine.